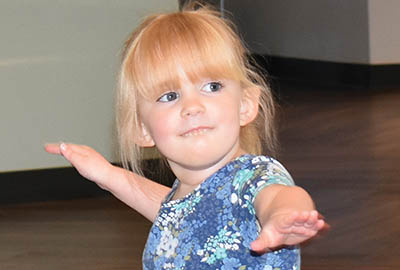 The Town of Farragut is offering a program that teaches families new skills, while also promoting togetherness and fun.

Its Family Y\Yoga class, which meet at 5 p.m., Mondays in Farragut Community Center's Assembly Hall — it began as pre-school yoga classes last July — has been ongoing since November, featuring a few dedicated families who regularly attend.

However, Brittany Spencer, Town Special Event & Program coordinator, is hoping to shine a spotlight on the program to potentially generate more interest.

"This is a great, free weekly program for families of all ages that is filled with movement and laughter," Spencer said. "(Teacher) Jenny Trussell is a registered children's yoga teacher and is also a 500-hour registered yoga teacher and has been teaching our Family Yoga class since we re-opened the community center last summer.

"She is an amazing, passionate teacher; volunteers her time for those free classes that she provides to the community," she added.

Trussell, a Farragut resident who has been teaching yoga almost seven years, said she wanted to offer something to children to help them move as the pandemic continued, and the classes quickly evolved into including all family members.

"We started a pre-school class, and early on we had older siblings who were practicing along with us, and parents were already here, too. Since there are so few classes for families to move together, the class organically grew to what it is today," Trussell said.

Chris and Rebekah Page and their two daughters, Audrey 10, and Beatrice, 6, are one of the regular families who attend, and were front and center Monday, March 29.

"My daughters really enjoyed it from the beginning and really took to it, so it was nice for all of us to be able to join," Rebekah said. "There are not many classes for children and their parents, and it is really great for us to all be together.

"The classes are only 30 minutes, so they don't take long, and it doesn't take up much of the evening," she added. "It is also a very convenient location for us."

"What is really special to me is that the kids show such a love for learning, and I often have them lead some of our moves," Trussell said, adding, "Teaching yoga to children is all about modeling through play and imagination. I love being able to teach them how yoga can be accessible to everyone."

The Family Yoga class is just one offering from Trussell through the Town: this week she began leading a free "Relax and Breathe" class from 7 to 7:45 p.m., each Wednesday, which began April 7. It will continue though May 12 .

This class is described by Spencer as being a "restful 45-minute class that introduces breath work, mediation and gentle stretches for adults. No prior experience is required, as the class is geared for all skill and fitness levels.

Those attending are asked to register through the Town's Parks and Recreation website, www.farragutparksandrec.org under the Programs and Events tab.

Additionally, anyone who signs up will receive a free pass to Blue Ridge Yoga, where Trussell also teaches family classes.

"It's important to me to support our wonderful local yoga studio in addition to offering community classes," said Trussell, who also finds time to lead chair yoga classes at Farragut Presbyterian Church.

"We are so fortunate to have Jenny as part of our community — and we are excited about her upcoming class for adults as well," Spencer added.

To contact Trussell directly, e-mail her at cedarstudios4@gmail.com.