Copper Cellar Family expands with new restaurant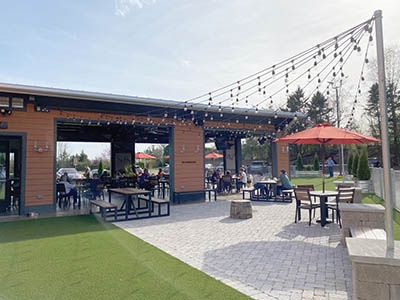 The Copper Cellar Family of Restaurants has a new member of its family — Corner 16 at 9637 Kroger Park Drive, just off Northshore Drive in Northshore Town Center.

The restaurant, now the latest eatery in the Copper Cellar family and second Corner 16, opened its doors Monday, March 29.

"Copper Cellar Family of Restaurants is excited to have the second location of Corner 16 in the Northshore community," said Kelsey Headrick, marketing director with the company. "There has been tremendous growth in that area, and we are happy to be able to be a part of that.

"The Copper Cellar Family can't wait to create memorable meals and meaningful connections with both new and old faces at our new Corner 16 location," she added.

The growth of Copper Cellar Family of Restaurants, which is headquartered in Knoxville, spans 40 years.

Mike Chase, president/owner, "looks for places to open restaurants," said Brenda J. Lott-Herron, Copper Cellar operations and logistics director. "He's in the restaurant business and loves it.

"We have one Corner 16 that's over on Middlebrook Pike," she added. "It went over so well (that) he decided to do another one."

Herron said Chase found the former Ruby Tuesday building off Northshore Drive, saw the opportunities and "just remodeled it," she said.

Corner 16 is described on its website, corner16.com, as a "casual style restaurant for the whole family" that serves lunch, brunch and dinner.

"… For over three decades now, we have lived out our commitment to enrich this community through memorable meals and meaningful connections," the site further stated. "Corner 16 stays true to that mission. Every area in Corner 16 puts the focus on relationships — new and old ... ."

The restaurant's menu includes appetizers such as wings, bacon-wrapped burnt ends served with Tennessee Whiskey Bar-B-Que Sauce, soups, salads, burgers, its Corner 16 "Build Your Burgers;" comfort food entrees such as chicken and dumplings, grilled ale chicken, ale pork chops, hickory-smoked meatloaf, grilled salmon, steak and roasted turkey and dressing, among many others; and side dishes such as its smokehouse potatoes and bacon-and-cheddar grits.

The restaurant is open from 11 am. to 10 p.m., Monday through Thursday; from 11 a.m. to 11 p.m., Friday and Saturday; and from 11 a.m. to 10 p.m., Sunday.

For more information or to place an order, call 865-507-3309.