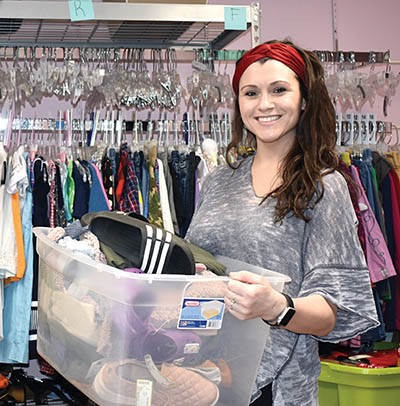 Farragut's popular children's consignment shop, The Adorable Child, will be relocating just across the street in the coming months.

Owner Brad Hobbs announced last week the store will move to Village Green shopping center in the location formerly housing Tuesday Morning, which closed last fall.

Hobbs said they are looking at a few months of renovations, while also maintaining its present location, 11416 Kingston Pike.

"We have been in business 15 years and have simply outgrown our space," he said. "This will be the third time we've expanded. The first two, we knocked out walls in our location. Now there are no more walls to knock out.

"I've had my eye on Village Green for a number of years, but never had a space the right size to grow into until Tuesday Morning closed," he added. "That began a six-month journey that culminated in signing a lease earlier this month.

"The Town of Farragut (recently) issued our building permit to begin the buildout. That should take about two months. We are hoping to begin populating the space with inventory in June for a grand opening during our Fall Debut in July."

The business will go from 3,500 square feet to 6,400 square feet, "hence we will almost double our space, which will allow us to serve more consignors and increase our inventory," Hobbs said.

"Our children's lines will continue to be our core business, and we anticipate significant growth here and plan to expand our inventory of women's clothing for juniors, misses, curvy and athleisure.

"We will also be consigning high-quality, small-home goods," he added. "Our team is hugely excited about the expansion and how it will allow us to better serve our consignors and customers."

While most sales are through the store itself, The Adorable Child has an online store accessible at www.adorableonline.com.

"It has taken on great importance in serving our customers," Hobbs said.

"We hope to expand our online offerings as a result of the expansion as well," he added.

Hobbs began the business with former partner Judy Davis, whose interest he bought out earlier this year, "although she remains a consultant," he said.

He also anticipates "hiring more staff. We currently have 11 team members, and will bring on another three to four by summer.

"We are looking for sales, inventory, and digital marketing talent," Hobbs added.

The Adorable Child is open from 10 a.m. to 6 p.m., Monday through Saturday, and closed Sundays. It currently is accepting all seasons worth of items, from 9 a.m. to 5 p.m., Monday through Saturday.

For more information, call 865-671-6698 or visit The Adorable Child on Facebook, Twitter or Instagram.