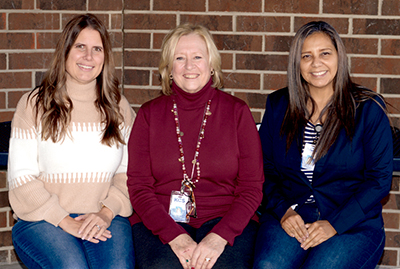 Farragut Primary School teachers Disa Benefield, Claudia Sanchez and June Frear are their school's Teachers of the Year.

Benefield, who teaches special education, Sanchez, who teaches English as a second language, and first-grade teacher Frear were chosen by their peers for their accomplishments.

"There's a ballot, so each staff member will choose a teacher," Benefield said.

The results of those ballots then are combined, and the nominees who meet a list of qualifications, such as tenure, are selected.

"I was so excited and very happy because we have such high-quality teachers here in the building," Sanchez said, adding she also is happy that teachers think highly enough of her to choose her for the honor.

This marks Sanchez's eighth year at FPS in a teaching career spanning 17 years. Along with ESL, she also had taught high school Spanish.

"I remember when I was the youngest teacher in the building," she said. "I was 21."

Sanchez was inspired to pursue teaching by her parents, who were teachers. However, her father did not want her to become one.

"I have a law degree (in the nation of) Colombia, too, because when I wanted to be a teacher my dad said, 'No, I'm not paying for that.'"

Regardless, Sanchez also studied to obtain a teaching degree, and "when I moved to the United States my teaching degree was valid, but my law degree wasn't … now I am a teacher."

What she loves most about her chosen career is "my interaction with the kids," Sanchez said. "We are not always the teachers; the kids teach us things, too."

Benefield, who has been with FPS for seven years, now is in her 20th year of teaching.

"I was surprised," Benefield said about her Teacher of the Year award. "It was a nice honor, especially coming after a hard year last year, and this year equally challenging."

Benefield's career started in Missouri and included teaching in West Virginia and Iowa before she moved to Tennessee in 2012. While most of her career has been in special education, she also taught third grade for a couple years.

She chose to teach special education because "I had a friend whose brother had special needs.

"Just watching his challenges was a unique challenge for me to see how I could help," Benefield added. "I kept pursuing that as I got older.

"I like seeing students succeed who start out where school is really challenging but find areas where they can be successful.

"That's rewarding to me."

Going into her 43rd year as an educator, Frear has taught at FPS for 29 years.

"I taught second grade for nine years, but the rest has been first grade," she said.

"I was so excited and honored to be chosen," Frear added. "Especially since I am retiring this year, so what an honor to go out being honored by my peers."

Frear was inspired to teach by a former sixth-grade teacher, Mrs. Fulton, in Fairview, Pennsylvania.

"She just went above the line, really worked with me and just gave me a stronger desire to succeed," Frear said. "She was just very understanding."

As a teacher herself, she said, "I love making learning fun and engaging for kids and just watching them grow from where they started in the beginning — especially in the first grade, just starting to read — and where they end up at the end of the year," Frear said.

"The growth you see is very rewarding," she added.

Before coming to FPS, Frear was at Knox County's now-closed Oakwood Elementary School, and also taught in Springdale, Arkansas.