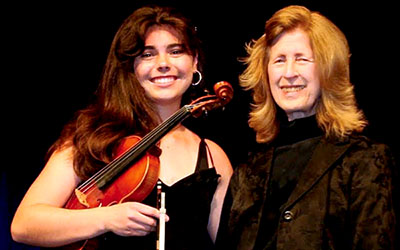 Bearden High School Class of 2022 graduate Autumn Larmee recently won the high school category for her violin concerto in Scruffy City Orchestra's 2022 Concerto Competition, recently held in University of Tennessee's Natalie Haslam Music Center.

"I was surprised and very happy to win, and I was grateful for the wonderful offer to play with the orchestra," said Larmee, daughter of Anngelle and Talmon Larmee of Knoxville. She won for her performance of I. Allegro Molto Moderato by Samuel Barber.

The BHS senior has been playing violin for about 10 years, the last seven under the instruction of Mary Ann Fennell.

"I actually started playing after hearing my second-grade classmate play 'Rocky Top' on the violin for show and tell," Larmee recalled. "I figured 'Twinkle, Twinkle' would be a real showstopper for a third-grade show and tell.

"As I've continued learning and growing on the violin, it has become a great creative outlet for me," she added. "As time goes by, the music becomes more about art and communication than just technique, and I have loved experimenting with and exploring how sound becomes art."

She found out about the Scruffy City Orchestra competition from Fennell.

"Another one of her students won recently, and she thought it would be a good opportunity for me," said Larmee, who earned a trophy for winning. "Honestly, the decision to compete was a bit last-minute, and I had already been working on the Barber Concerto for a while.

"Regardless of that, the first movement and the piece, as a whole, are gorgeous, and I just love playing it," she added. "The melodies are so heartfelt and leave plenty of room for interpretation and a personal touch."

Larmee plans to continue playing the violin with UT Symphonic Orchestra.

"And, I hope to play in a professional orchestra one day," she added.

Larmee plans to major in biomedical engineering at UT-Knoxville.