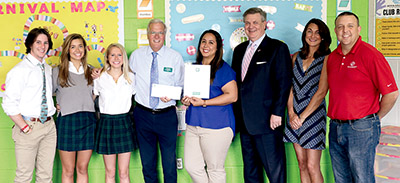 Marking its third year, Webb School of Knoxville's student-driven Philanthropic Investment Group club recently presented a check for $500 — part of PIG's latest investment profits — to Haslam Family Club University branch of Boys & Girls Clubs of the Tennessee Valley.

Founded by Webb Class of 2021 alumni Crawford Hovis, Sam Beall, Eli Mayes and Harrison McCollum in the fall of 2019, Webb's PIG is a charity-focused investment club. Its mission is to support local, national and global communities through charitable giving while also teaching and inspiring Webb students to invest in the stock market, providing real-world skills and experience.

The PIG club's latest donation was made in memory of Patricia "Patti" Collins Moran, who was named the first executive director of the Girls Club of Knoxville in 1963. Patti, who passed away on April 18, 2022, also was the grandmother of Webb rising senior Molly Crawford, PIG vice president and head of philanthropy.

For Crawford, PIG's decision to donate its latest earnings through trade in honor of her grandmother was especially significant. "It meant a tremendous amount to me," she said.

"My grandmother always told me about how impactful and important the job was to her, so it was amazing to see this come full circle with our club giving back in her name."

PIG structure

Boasting more than 25 Webb high school students, PIG manages a real financial portfolio, including the researching, buying and selling of stocks. Members can become voting partners with an investment of $50 or more and/or by participating in a series of fundraising efforts. Any PIG member can pitch stock options and the voting partners then vote to buy or sell. At their meetings, the students discuss the current status of their investments, present new trade ideas and consider where they can donate next.

Connection to founder

Patti Moran's two children, Staci Moran Crawford, Molly's mother, and Louis S. Moran III, Molly's uncle, also attended the presentation ceremony at the Boys & Girls Club.

"I was so happy that my mother and my uncle – both of whom are Webb alumni – were able to attend the presentation, because I know how special it was for them as well," Molly Crawford said.