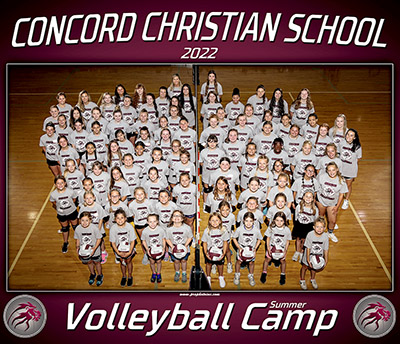 Carmen Hochevar, Concord Christian School High School volleyball head coach, reported "a huge turnout" for CCS Elementary, Middle and High School Volleyball Camps held recently.

"These kids learned more about volleyball, played fun games, had competitions and give-aways, laughed, lifted and had devotions," Hochevar said. "The campers had a surprise clinician; Professional Beach Volleyball player and collegiate All-American (from) Long Beach State University, Brittany Hochevar."

With 94 campers participating, "This was by far our largest camp for CCS volleyball," said coach Hochevar, who has led her CCS team to a pair of TSSAA Division II-A state runner-up finishes.

"This camp represented over 10 local schools," she added.

Lady Lions coaches and CCS volleyball team members "instructed the campers; they poured into these athletes to make this a fun-filled, skill driven, Jesus-loving volleyball camp," coach Hochevar said of Kelsey Baird, Lydia Collins, Mary Trimble-Daws, Mackenzie Snider, Angela Thaller, Allie Koepfer and Gina Profeta.