Grant, donations allow non-profit to help local, ET families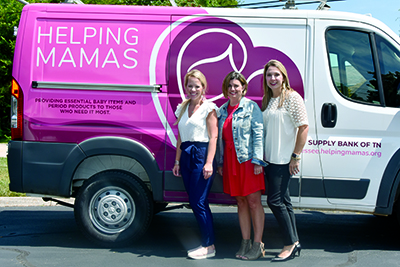 Thanks to a grant from Amerigroup and an anonymous donor, a local organization recently received the means to better help families throughout East Tennessee.

The addition of a new van for Helping Mamas Knoxville — which works with roughly 60 partner agencies to provide diapers, baby supplies and (feminine hygiene) products — will enable these supplies to be delivered where they are most needed.

"This new van will allow staff and volunteers to distribute more diapers in rural areas of East Tennessee," a HMK press release said. Additionally, the van will allow Helping Mamas to expand their mobile distribution program directly into the community.

"These families often have to make the hard choice between diapers and food," said Tess Frear, Helping Mamas Knoxville's executive director and Farragut resident. "By providing diapers and essential items, we strive to help families not have to make that difficult choice."

It is estimated that one-in-three families experience diaper insecurity, according to information from Helping Mamas, which goes on to state, "Diaper need disproportionately impacts families living below the poverty line."

Frear has led Helping Mamas Knoxville since starting this HM location in 2018, following the lead of her cousin, former Farragut resident Jamie Lackey. Lackey started Helping Mamas in 2014 in Atlanta, where she has lived for more than 20 years.

"I was a social worker at the time and could see the gaps in services for moms and kids," Lackey said. "The government doesn't provide funding for diapers, baby items or period products, and I wanted to be able to help provide for those needs."

"I started Helping Mamas Knoxville because I was looking for a way to give back to my community, as well as share my passion and faith with my children," Frear said.

Helping Mamas collects and redistributes essential baby items, such as diapers, wipes, bottles, clothes and car seats, eliminating the burden of collecting and coordinating essential items for family support workers.

They also works with hospitals, clinics, nadoption agencies and foster organizations — among others — to find those in need.

"I believe that we are called to use the gifts we have been given to help others. I have just been blessed with this wonderful opportunity," Frear said.

For more information, or to help with its mission, visit www.tennessee.helpingmamas.org or helpingmamasknoxville on Facebook, Twitter, Linked In or Instagram.

"You just never know in life when you will be walking in someone else's shoes so you should always help and treat them with respect. I am no better than anyone else. I have just been given this platform to bless others.

"I think us being able to give to these families and caseworkers is a boost in their hard day that lets them know we are thinking of them, we are there for them and they are doing a great job."

To date, Helping Mamas has served over 200,000 children in need and has distributed over three million essential baby supplies to families living in poverty.