Department's fall calendar also features 'Georgia Tour'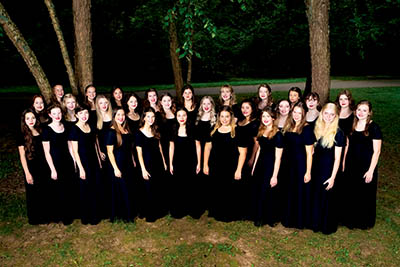 Farragut High School's music department has a lot to sing about this school year, from community concerts to a planned "Georgia tour" and even a performance at Carnegie Hall.

"We are doing some really big things this year," said FHS's choir director Mitchell Moore, who is in his third year leading the programwhile also co-teaching musical theater. "We are finally coming out of COVID, and students have been working very hard, as we are able to do more.

"They have also been invited to more events, and we want the community to know what our students are doing because we need their support to make it all happen," he added. "We want them to attend, advocate and financially contribute in any way. shape or form."

First up will be the first of four community concerts starting at 7 p.m., Tuesday, Oct. 4, in FHS's Vickie B. Wells Auditorium.

"We have four 'normal' concerts during the year," explained Moore, noting the others will be Dec. 15, Feb. 23 and May 9. "But we almost always have some others off campus, too."

Knox County Coupon Book sales are under way, running through Monday, Oct. 3, which helps with program funding.

Moore said they can be purchased from various members of the school's choral groups, with proceeds specifically going toward upcoming projects, including the Advanced Women's Chorus's visit to Georgia Nov. 6-8.

The 30-member group will be performing with the Mercer University Women's Choir and the regionally renowned Mary Persons High School choir, and also has been invited to compete in the Southern Invitational Choral Competition at Georgia Southern University.

"(The latter) is a very prestigious event, by invitation only, and we are the only representatives from Tennessee who have been asked to attend," Moore said with excitement, noting his own Southern Georgia roots helped open the door for the opportunity, having taught at Mary Persons High School while also teaching at Howard High School in Macon, where Mercer is located. "The Southeast's best high school choirs will be taking part, from Florida, Georgia and North and South Carolina."

In addition to competing and performing, the group also will take the opportunity to visit Savannah, Georgia, for a day trip and enjoy a riverboat cruise.Cost of that trip is $13,500.

Another big upcoming event will be the March 25-28 trip to Carnegie Hall for the school's advanced mixed choir.

"It is another invitation we received, and we had to audition," the choir director said. "We are hoping to take 49 students on that trip.

"We will be flying up there, rehearsing and performing, and hope to see a Broadway show and do some sightseeing," the FHS director added.

Cost of that trip is $81,830, Moore added, noting other fundraisers will include selling popcorn Monday through Thursday, Oct. 1-4, and poinsettias Oct. 24-Nov. 16.

Pick up for poinsettias will be Nov. 21. "It's the same day as (Farragut's) Light the Park, and we will be performing there, too," he added.

For more information, or to donate to the program, contact Moore at mitchell.moore@knoxschools.org.