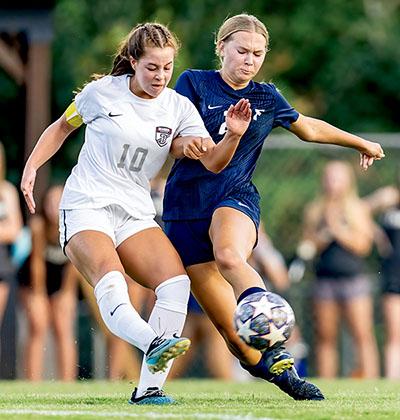 The streaks extended to 56 matches unbeaten with a 51-match winning streak for the defending national champion/two-time defending Class AAA state champion Bearden Lady SoccerDawgs after a visit to rival Farragut Thursday evening, Sept. 14.

Jumping ahead quickly and building a 4-0 halftime lead, Bearden cruised past the Lady Admirals 5-0, ending this week with a perfect 7-0-0 record. Farragut stood at 5-3-1, 0-1-1 in District 4-AAA at week's end.

Three goals and one assist from star senior forward Alivia Stott, a University of Tennessee commitment, led the way for BHS. Jayle Blue added one goal and two assists, while Nyla Blue scored on an assist from Tyler Roth. Breanna Mendoza also had an assist.

"I always joke, when I talk to Ryan (Radcliffe, Bearden head coach), about, like, 'what drills do you do when it comes to finishing (turning shots into goals), because they finish better than any team in the state in the box," FHS head coach Jessie Burkhart said. '... It's one thing to know it and another thing to defend it."

However, while saying Bearden "has a great front line," Burkhart added, "I don't think they played us off the field. We were obviously on our heels in the 18-(yard defensive box). ... You can't go to sleep in the box on them, they're that deadly."

Despite all the success his Lady SoccerDawgs continue to enjoy, "It's hard for us; it's hard being the defending champions because every game that you come into you're playing against a team that's supposed to be the underdogs," Radcliffe aaid about his team.

Bearden opponents "can be more relaxed and play a little bit freer in that situation, and we have to be on our game every time," the BHS head coach added.

However, "We talk a lot about how starting early can help the rest of your game," Radcliffe said. "In all Farragut-Bearden games, when you score early you kind of settle in to what you want to do and play a little bit more relaxed with a little less pressure.

"That's what I told the girls at halftime: I said, 'Jayla's goal (early in the first half) really broke the seal and kind of opened things up for us,'" the coach added.

Bearden ended with a 23-6 edge in total shots, plus an 11- 2 edge in shots-on-goal.